Acoustic Sealant
Centabuild M752 Aquathane
Centabuild M752 Aquathane is designed for sealing interior and exterior construction joints that are subject to movement in concrete precast panels, blockwork, brickwork, and timber / steel joints. M752 has excellent adhesion capabilities plus durability. Centabuild M752 is a one-part, waterborne, urethane polymer blended with acrylic co-polymer to give a tough and gunnable sealant.
Centabuild M755 Acoustic Sealant
Centabuild M755 Acoustic Sealant is a flexible water based product for internal use. It is applied around the perimeter of all partitions and all penetrating items on walls where sound compartmentation is required. It is suitable for concrete, brick, masonry, timber, steel, polystyrene and most wall panel products such as gypsum plaster boards. M755 maintains the sound transmission class (STC) of 55 in gaps in partitions. Note: M755 is not a fire rated sealant.
Good adhesion to most common building substrates. No priming required in most cases. Can be applied to damp surfaces. Water clean-up. NON TOXIC, NON HAZARDOUS FORMULA.
Duct Plugs
Duct Plugs
Duct Plugs seal pipes, conduits and ducting from water, corrosive chemical, fire, smoke, noxious gas, rodent, ice, mud and debris. Reusable duct plugs are simple to apply and are available in sizes and models to suit an extensive range of applications. All plugs are designed for cable and are split for easy retrofitting and removal.
Fire Rated Sealants

Firepro M706
A one-part fire-rated sealant to perform as a barrier against fire penetrating expansion joints. Cleans-up in water. With an acoustic rating of STC65. For gaps up to 50mm depending upon joint type.
Sizes: 300mL Cartridges 600mL Sausages 10L Pails.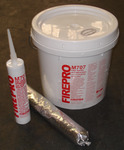 Firepro M707
A one-part, waterborne, high performance interior/exterior fire protective and acoustic sealant. Cleans-up in water. With an acoustic rating of STC55.
Sizes: 300mL Cartridges 600mL Sausages 10L Pails.
Firepro M708 Fireban
A fire rated, single component, polyurethane sealant curing via air humidity to form an elastomeric weatherproof fire rated seal. Recommended Uses: Sealing joints in expansion and construction joints in precast concrete. Sealing joints in insitu concrete, block and brickwork. Penetrations in areas requiring intumescent sealing. Sealing acoustic jointing.
Available in 600ml flexible packs (sausages). 15 year durability. Excellent weathering resistance. Can be over-painted. ±25% total joint movement. Acoustic ratings up to STC 45.
Fire Stop Sealing
Firepro M797 Firepro Intumex
Firepro Intumex is a fire stopping compound for application in firewalls and floors, mainly around penetrating items. It is hard-setting, lightweight and simple to apply. It is supplied as a pre-mix powder that water is added to, forming a mortar.
Fireseal Strip
BJ201
A flexible, fire resistant barrier for seismic & other movement gaps in walls and floors. Fire resistance ratings of 2Hrs for gaps up to 100mm and 1Hr rating for gaps to 130mm. NOTE: All joints to be sealed with intumescent sealant.
Code FRR Gaps up to: BJ201-2-40 -/120/120 40mm BJ201-2-60 -/120/120 60mm BJ201-2-100 -/120/120 100mm BJ201-1-130 -/60/60 130mm
Firepro B212-FBS
A flexible fire resistant barrier strip providing up to 2 hours fire protection, sold in bundles of 10. NOTE: All joints to be sealed with intumescent sealant.
Code FRR Gaps up to: B212-2020 -/120/120 16mm B212-3830 -/120/120 30mm
Wallboard Adhesive
M766 Studgrip
Centabuild M766 Studgrip provides excellent bonding of plasterboard and wallboards to wooden or metal building frames. Reduces quantity of nails and screws required and therefore stopping and finishing work, giving a higher quality appearance. Superior bridging and gap filling properties reduce the effect of unevenness in frame or board. Minimises nail popping from timber shrinkage or movement. Reduces reverberation on metal studs. Clean-up with water.
Copyright © Firepro Centabuild Ltd
Website design by
Round Orange